29 Jul

Leaving Provo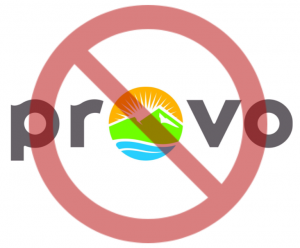 We originally renamed and relaunched this business in 2009 out of a 100 sq. ft. shop on the southeast corner of BYU (that location is now a CupBop with pretty good reviews). In 2011, we moved to a 1000 sq. ft. shop in downtown Provo that we called home up until March of 2017 (that location is now a bridal shop). In August of 2017, we started moving into our current 4000 sq. ft. location on center street in Orem. All these moves have been difficult with lots of man hours spent figuring out new systems, changing over old information, and getting the word out to the community. However, with this move we have received a lot more questions about why we chose to move. We thought we would just post some quick responses to some of the most common ones we have been getting.
Why the move to begin with?
There were a combination of factors.
The City of Provo is making some very poor design choices with their downtown area. The implementation of the Bus Rapid Transit System (BRT) meant that they would be eliminating all parking down University Avenue including the parking our location had in front of the store. This combined with traffic light re-prioritization to accommodate the buses meant that getting to our store was going to become an increasingly frustrating experience for customers.
Change in Building Management
The previous management of our building had been easy to work worth and pretty forthright with plans or issues. That changed a couple years ago when new management was brought in to run the building. Management became increasingly inept and difficult to work with probably due to lack of experience and knowledge. Our previous lease had converted to a month-to-month lease in 2013, as had the leases of all tenants in that building. New management tried to negotiate new leases with all tenants but the contracts provided were error ridden and full of unfunded mandates that tenants were expected to shoulder. There was also a significant rent increase slated. The terms were so onerous that not a single tenant opted to stay in that building. It will be interesting to see if any of the businesses that were brought in as replacements will make it in the long run.
Lack of space for expanded operations
When we first moved from our previous location into our downtown Provo location, we did not know how we would ever fill the new space. That changed after a couple years to worrying how we would possibly fit anymore of our operations into the space we had. In order for us to execute our future plans for the store and additional operations in Utah valley, we realized that we just needed more space.
What sort of locations were you looking for?
We started out our search by outlining our goals for a new location. We wanted a location that offered expanded square footage, easier logistic operations, dedicated parking, access convenience for customers, and was close to other locations that customers may already be visiting. We looked at several locations in Provo, particularly south Provo and downtown Provo, however, we found asking rents to be totally out of line with actual market trends. Moving our store into an overpriced location would necessitate us raising pricing which we wanted to avoid. We shifted our focus to major retail destinations in Orem along with secondary locations in Provo, but realized that many of these locations would move us farther and farther from the I-15 and cause additional inconvenience for customers. We settled on our current location as the best compromise among all our goals for our location search.
How long do you plan on being in this new location?
As of right now, for the significant and distant foreseeable future. We are pleased with our lease terms and should be in this new location for a very long time.
I heard from other paintball businesses that you were done for or going out of business, any truth to that?
Simply put, no. We hated inconveniencing our customers while we were closed and looking for a new space, but we always had the intention of reopening. When we left our downtown location we assumed that we would be closed for about a month and we were in the process of negotiating a new location at the same time. We hoped to have an announcement for where we were moving the week after we closed but the deal fell through. Over the next several months, we had several other deals fall through until we were able to negotiate the deal we have on our current location. Now that we are moved in and operating we can continue to build out our store location and start working on some additional exciting projects to help grow the Utah paintball scene.
Is my lifetime labor warranty still valid?
Absolutely. We have the information on everything we have ever sold going all the way back to 2009. Our commitment to backing our equipment is unchanged.